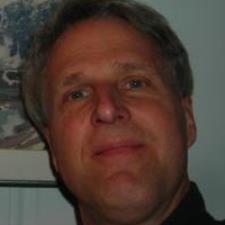 Stanton D. answered • 06/04/20
Tutor to Pique Your Sciences Interest
Hi Alyssa R.,
I'm assuming that you are a little bit in the dark as to the techniques as well as the significance of the results displayed?
Fig. 2 (b) shows (at left) untreated cells, (at middle) treated cells, but not purified further, and (at right) treated cells, purified further. These 2-D graphs display (as dots) cells that bound two molecules of interest, the vertical axis shows amount of streptactin bound (note that the axis is logarithmic, i.e. amounts increase greatly as you go upwards), and the horizontal axis shows the amount of a particular RSV (respiratory syncytial virus, the pathogen they're trying to develop a vaccine for) surface protein bound. It's quite common to incorporate an antibiotic-binding capability as part of genetic manipulation experiments, because if you immobilize that antibiotic on a solid support and wash your cell population through, cells which stick (b/c they have the antibiotic binder on their surface) also comprise your desired population of RSV-surface-protein binders as well. This is a method to reject the not-successfully-treated cells (they wash through), and using the antibiotic as a binder for this is MUCH cheaper than doing the same thing with the RSV-surface-protein (very expensive!) itself. OK, so b/c the streak of the cell data has moved to the right and up, this shows that both antibiotic binding and RSV-protein binding capability were both successfully incorporated into the cell line sample.
Fig 2 (c) shows the % of cells in the population treated that were actually converted to bind both molecules. it's high (~30%).
Fig 2 (d) shows the biological response (something involving Ca2+ release, indicating that the cell has bound a protein to which it will immunologically react) of the treated and untreated cells, to genuine RSV protein-of-interest (on the left) vs. to a run-of-the-mill IgG molecule challenge (on the right). Only the treated cells react to the protein-of-interest, and they do not react differently than normal to an IgG challenge. That is to say, their response is sensitive, and their response is specific.
By the way, the technique on 2(b), flow cytometry, is just an on-the-fly spectrophotometry on a per-cell basis. As the cells are pumped in a fluid through the measuring chamber, the two molecules of interest bind (or not) and produce a visible light absorption spectrum change, if they do bind. The absorbance spectrum change has individual portions that indicate the binding of each molecule, so you get an x-y point to plot from each cell passing through. And, that's LOTS of cells.
-- Cheers, -- Mr. d.