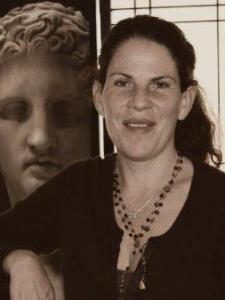 Classical mythology refers to the culture of Ancient Greek and Rome which actually were separated by each other in terms of language, time (in terms of their height-Athens , 5th century BCE ; Roman culture reached it's high point- 1st BCE and 1st C. CE) Professor E. Vandiver- (Great Courses) offers working definition of myth as:
"Traditional stories a society tells itself that encode or represent the world view, belief, principals and often the fears of a society."
The Romans without a strong literary tradition of their own when the subjugated Greece-and embraced the Greek ones. literature, specifically mythology and art.
Roman culture adapted it's culture in toto which were developed in Ancient Greek therefore the myths that developed in Ancient Greek were taken over by the Romans.
The Blending of the two cultural traditions allows us to discuss Greco-Roman culture, literature and art- while, in fact, each of these cultures was it's own and the overlapping of the two has something to do with the extant (existing) literature and artifacts of the ancient world that remains for us.
Since the Romans wanted to align their own less literate tradition with the Classical Athens culture so they borrowed. Think of a Gucci knockoff.
The Romans themselves were aware of the re-purposing of myth:
As the poet Horace shares: Book II, epistle 1, lines 156-157.
Graecia capta ferum victorem cepit et artes intulit agresti Latio.
Graecia capta - Captured Greece
cepit - seized
ferum victorem -(her) savage conqueror
et -and
intulit - brought
artes (her) arts
agresti Latio - to savage Latium (the province of Rome)