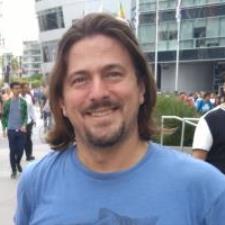 Max M. answered • 04/04/19
Improve your skills and scores with a Harvard grad.
Ah, a musical theater question! My number one passion!
It's a great question, and I wish I could just give you a definite answer, like "Walter Kerr, in his review of Hello Dolly in 1964." But that's not the answer, and I strongly doubt it can be traced back to any one person. Technically of course, someone used it first, but as you already see from disagreements about exactly when the Golden Age was, there is no "official" designation, and no official time it was so designated.
A Golden Age is a term that inherently is only applied retroactively, and usually refers to the time when the enduring classics of a genre were created. And it's always a gradual process by which art becomes a classic. When Oklahoma! opened, for instance, I'm sure some people saw right away that the storytelling potential of musical theater had just been blown wide open (though why they didn't have that revelation 15 years earlier when the even more story-driven Show Boat opened is an interesting question), but for most people, it was just the new hit musical on Broadway. It took time for people to recognize the impact that it had, because it took time for it to have an impact. And it took more than one show for R & H to be recognized as musical theater innovators. The dates you mention, 1943 - 1959 were probably chosen because that range covers R&H's most fertile and successful period, when they wrote Oklahoma!, South Pacific, The King and I, Carousel, and Sound of Music.
But while by the end of that period they were undoubtedly recognized as giants of the theater world, it took another generation being influenced by them and building on their innovation to enshrine them. And that is an inherently blurry process with no clear start time. Frank Loesser obviously belongs to the Golden Age (Guys and Dolls), but one of his biggest hits (How To Succeed...) was in 1962. Is that a Golden Age show? One of the major guys of the next generation was clearly Stephen Sondheim. But by 1959, he already had written lyrics for West Side Story and Gypsy.
And R & H didn't stop working after 1959 either--in fact, Rodgers and Sondheim worked together in 1966 to write Evening Primrose. And other giants of the next generation--Bock & Harnick, Kander & Ebb, and many others--also overlapped with R&H. By 1969, the Broadway landscape was hugely different. Shows like Cabaret, Fiddler on the Roof, Promises Promises, and Company, for instance, clearly belong to a different era than Oklahoma!. But when precisely did that change happen? Well, it didn't happen precisely; it just kinda happened.
All of this, of course, is an overly detailed way of saying that there was no specific time and place when any specific range was named a Golden Age, and no landmark person who did it. To overstate the point, imagine driving with a group of people from the city to the countryside. Building start getting smaller, more trees start to appear, there's fewer buildings, everyone's looking around from time to time, and at some point you all realize you're out of the city and in the country. But when exactly did the city end, and who noticed it first?
Apologies for the long answer--in case you can't tell, I'm happy to talk musical theater (or theater in general) any time you like!