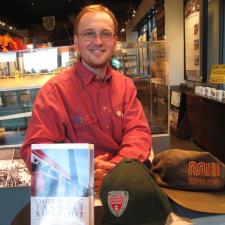 Hi Ana,
This sounds like a fascinating concept for a comic book!
I don't think it would be disgusting if the male lead donates blood to the female lead and they fall in love over time. In fact, I think the idea would work on two levels.
1) If/when the male lead donates blood to the female lead, it could further their affection for one another to the point where they truly feel like birds of a feather because they share one more trait in common--blood type! Metaphorically speaking, the idea of one person donating blood to their (future) significant other resembles the concept of Cupid throwing his arrow through one person's heart and he/she falling in love with the first person they see right off the bat.
2) Upon the male lead donating blood to the female lead, curing her of her given ailment, the female lead will feel forever indebted to the male lead due to his generous "donation" that has kept her alive--thereby being eternally at the male lead's feet. Therefore, the two lead characters falling in love with each other will be a sign of how much they truly understand and respect one another from the inside due to their shared "bloodline".
Let me know what you think of my suggestions. As a published author myself (of three going on four books), I have helped many people make their literary dreams come true as aspiring authors. If you seek further feedback and professional assistance from me via my tutoring services offered, feel free to let me know! Good luck with completing your comic book!