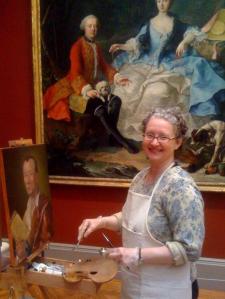 Isometric drawing is unique and important in that the height, width and depth of an object are each represented as actual measurements. The planes are shifted to imitate foreshortening but none actually recede to a vanishing point. Parallels remain parallel. Intersections of any two planes are shown as 120 degrees, 360 degrees total at corners where three planes join. I find it easiest to discuss with simple words as above: height, width and depth...3 dimensions represented on a 2 dimensional picture plan. I have used wires or tooth picks or any linear element of standard measure to construct both a 3D thing and it's isometric representation. Discussion of scale may be necessary; 1" equaling 1' or whatever. But a 1:1 usually works for kids. A 1" box is drawn with 1" lines in each of the 3 directions. In linear perspective the faces or planes receding or vanishing compress the appearance of the dimensions and foreshortening occurs. This, measuring happens differently.
1 point perspective can afford one frontal plane that can match 1:1 measurements. But then the depth is foreshortened. So this can be a conceptual bridge between isometric projections and perspectival ones.
Isometric projection is a technical and conceptual construct still used in engineering because actual measurements for fabrication can be taken from it readily with calipers or other tools. It does in one drawing what plans and elevations can do in linear perspective. But the appearance of all the info in one drawing is efficient.
I have a collection of wine bottle cork cages that have been crushed by cars. They are relatively easy to find in parking lots. But they can also be made in vice. These specimens are naturally occurring isometrics! They are the actual item crushed from 3D to 2D. Showing crushed and uncrushed examples make the concept literally and intuitively clear for kids. It's the same thing seen two different ways!
To bridge from isometric to linear perspective it's helpful to present the concept of the picture plane and do experiential interactions with plexiglass and then introduce the Albertian net which lets us be capture foreshortening as easily as with a camera. In fact the Albertian net can be understood as the first camera in a way.
I hope this helps you prepare for your projects.
My best,
Frances S in Ossining NY 10562