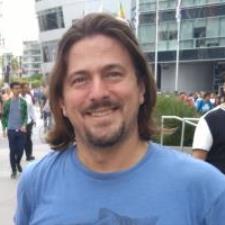 Max M. answered • 07/12/19
Improve your skills and scores with a Harvard grad.
If they're following "looking," then yes, forward implies eagerness or anticipation, whereas toward is more neutral and only implies attention. So:
"I'm looking toward the future" means you're thinking about the future
"I'm looking forward to the future" means you want the future to get here. Also note that "looking forward" will have a "to" after it.
In other contexts, they can both describe direction, but again, "toward" is less specific. It means "in the direction of." "Forward" means, literally, "toward the front."
If you're interested in some finer points, here's two:
You can break both words up into their components to see the difference more easily.
for- meaning "front" and -ward meaning "in a direction," so "in a front direction"
to- meaning just "to" and -ward again, so "in a direction to"
If you read older stuff, you sometimes find "toward" being used in a different sense. Sometimes in a novel or play, someone will say something shocking, and a character will respond "that's not toward!" Which means, roughly, "that's not appropriate" or "that's not relevant."