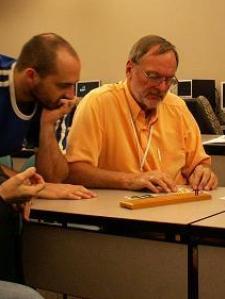 Kenneth S. answered • 05/21/16
Expert Help in Algebra/Trig/(Pre)calculus to Guarantee Success in 2018
Using the Pythagorean identity, cos2x = 1 - (-12/13)2 = 25/169; therefore cos x = - 5/13 (because of Quadrant III).
x/2 will be an angle in quadrant II so its cosine will be negative, given by the half-angle formula
cos (x/2) = ±√[½(1+cos x)] = -√[½(1+(-5/13)] = -2/√13 = -.5547
I am certain that this is correct (I checked it on the calculator, decimally...) and therefore I say that NONE OF THE ANSWERS a-d is correct. Because x = 247.38 degrees and you can divide that by 2 and then find the cosine of that, and it's exactly the decimal number -.5547.