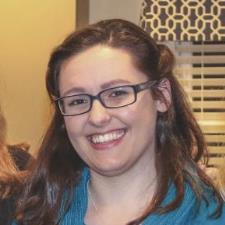 I agree with the above answer- I don't think one word will do it. (Though 'terrific' has potential, even if most people don't think of the 'inspiring terror' meaning these days.)
If you're looking to use two words, something like 'unspeakable radiance' or 'monstrous beauty' might work, or even just "unendurable presence," which I think conveys both the pleasure and pain of it by virtue of not actually describing either.
Abominable, unsayable, unbearable, and intolerable, are also good.
I have to say, though, that many of the most powerful descriptions of this kind use multiple words, and often fairly ordinary ones. I recommend Rainer Maria Rilke, particularly the Duino Elegies- he had a lot to say about angels and beauty and terror.
"Every angel is terrifying. Yet knowing, alas, I invoke you, almost deadly birds of the soul."
-Second Elegy
"For beauty is nothing but the beginning of terror which we are still just able to endure, and we are so awed because it serenely disdains to destroy us."
-First Elegy
"There is in God, some say, a deep but dazzling darkness," courtesy of Henry Vaughan.
John Donne has, "Death, be not proud, though some have called thee mighty and dreadful...", and "When God's hand is bent to strike, it is a fearful thing to fall into the hands of the living God; but to fall out of the hands of the living God is a horror beyond our expression, beyond our imagination."
Anyway, good luck!