The volume of a triangular prism can be found by multiplying the base times the height.
Both of the pictures of the Triangular prisms below illustrate the same formula. The formula, in general, is the area of the base (the red triangle in the picture on the left) times the height,h. The right hand picture illustrates the same formula.
Please look at pictures above
Definitions
BASE - The bottom of something considered in its support
HEIGHT - The measure from base to top
VOLUME - An amount or quantity of something, especially when great.
FORMULA - 1. a mathematical relationship or rule expressed in symbols.
If the volume equals the quantity of something when great then the volume of a triangular prism I have to say is triangular base x height.
Let's look at the base
and I picture your question like in above pictures with the top right ( please look at above 4 pictures ) being example.
THE BASE OF PICTURE ABOVE
The top right picture where c is in red and the shape is a triangle.
Let us assume we want to poor water in the triangular prism and fill to top capacity.
There are different types of triangles.
There are several formulas that we can use depending on shape of base.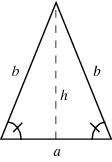 An isosceles triangle is a triangle with (at least) two equal sides. In the figure above, the two equal sides have length 
 and the remaining side has length 
. This property is equivalent to two angles of the triangle being equal. An isosceles triangle therefore has both two equal sides and two equal angles. The name derives from the Greek iso (same) and skelos (leg).
I WOULD ASSUME THAT THE TWO SIDES ARE 4 AND 7 AND THE HEIGHT IS 11. YOU STATED THE FOLLOWING QUESTION.
A triangular prism has a right triangle base with one leg 4 inches and the other leg 7 inches. The height of the prism is 11 inches. What is its volume?
ANSWER:
VOLUME = TRIANGULAR BASE X HEIGHT
VOLUME = 1/2 X A X C X H
VOLUME = 1/2 x 1.9364916731 in x 7 in x 11 in
VOLUME =0.5 x 1.9364916731 in x 7 in x 11 in
VOLUME = 74.55 in²
HOW DID WE FIND THE TRIANGULAR BASE?
WE DID NOT KNOW A OR HEIGHT OF TRIANGLE
Hint:
The above is a right triangle
The formula is a²+b²=c²
You are looking for a
or
You are looking for h
You must find height of isosceles triangle and that is one leg of right triangle
The base is 3.5
The hypotenuse is 4
a or h or leg was 1.9364916731
YOUR QUESTIONS ANSWER
74.55 in²