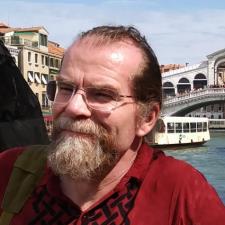 Essentially the answer is no. Nevertheless, though the average Medieval peasant didn't have access to a library, this doesn't mean that they were either ignorant or illiterate.
During the height of the Roman Empire, funding the creation and maintenance of a public library was one of the ways that the wealthiest and most powerful Patricians displayed their civic pride (as well as showing off how wealthy and powerful they were). The decline of the Roman Empire was accompanied by a decline in wealth generating economic activity, so that the funding for such luxuries as public libraries dried up.
The institution that survived the so-called 'Fall of the Roman Empire' and that had both the need for and the means to maintain collections of books was, of course, the Christian Church. In both monasteries and the palaces of bishops, archbishops, and Popes, libraries were slowly assembled during the Middle Ages (every copy of a book had to be produced by hand, a laborious and expensive process). As the economy of Europe gradually began to revive, lay persons, specifically, members of the nobility, began assembling private collections of books. In any case, before the establishment of the first Universities beginning in the late-11th century, the Church provided education, including access to their libraries, to lay people. The lay people in question were members of the nobility, certainly not peasants. As for public libraries, the first such institutions were created in the mid-15th century, but these were very few and far between.
As for the level of learning among Medieval peasants, Michael Clanchy, the author of From Memory to Written Record: England, 1066-1307. Oxford: Blackwell, 1979; 1993. has made a case for functional literacy among English peasants no later than the 14th century. According to Clanchy, assumptions about widespread illiteracy during the Middle Ages are based on a misunderstanding concerning the Latin word, illiteratus, which has traditionally been equated with the modern English word 'illiterate.' The problem is, Clanchy explains, illiteratus doesn't have the same meaning as the word 'illiterate.' During the Middle Ages someone who was said to be illiteratus was an individual who could not write Latin very well. Therefore, a person who could read and write in the vernacular, could read Latin, and / or could write in Latin adequately, but not well, would have been described as being illiteratus.