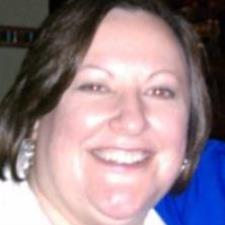 Hello. The first thing to think about with comparing ratios is to simplify into smaller numbers. In the Terry wedding if there are 20 guests for the groom and 15 for the bride that means a 20 to 15 ratio or 20:15. You can simplify those numbers by dividing each by a common factor of 5. Therefore, 20/5 is 4. Next, 15/5 is 3. So the ratio for the Terry wedding is 4:3. That means that for every 4 guests for the groom there are 3 guests for the bride.
Now, do the same thing with the numbers for the Crawford wedding. The 18 guests for the groom and the 16 guests for the bride can be simplified by dividing each by 2. Therefore, 18/2 is 9 and 16/2 is 8 so the ratio is 9:8. Which means that for the Crawford wedding for each 9 guests for the groom there are 8 guests for the bride.
Now compare the 4:3 versus the 9:8: If you look at each ratio as a fraction you have 4/3 vs. 9/8
to compare fractions you need a common denominator which in this case would be 24. Convert each fraction to have 24 as the denominator, 4/3 becomes 32/24 and 9/8 becomes 27/24. Clearly 32>27 so the first ratio (4:3) or 20:15 (as in the questions) is larger.