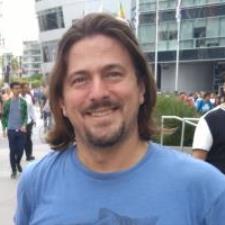 Properly, "e.g." should be punctuated with a comma after it, so no, the word following should not be capitalized; e.g., this phrase here.
In formal writing, very rarely, if ever, should "e.g." begin a sentence at all. I would punctuate the example you gave like this:
Should I always plug in electrical items, e.g., electric hairdryer, phone charger, etc.?
That said, if the writing is less strictly formal, and you do need to begin the sentence with it, then yes, the initial "e" would be capitalized.
If all this seems arbitrary and fussy, remember that "e.g." means the same as "for example," so if you're not quite sure, try substituting "for example" and see if that makes the question clearer. For example, "For example, electric hairdryer, phone charger, etc." isn't a sentence, because it has no predicate verb, so it doesn't stand on its own any better with "e.g." than it does with "for instance," but this one is, because it does ("isn't).
To quote Douglas Adams, "the previous sentence makes sense. That is not the problem."