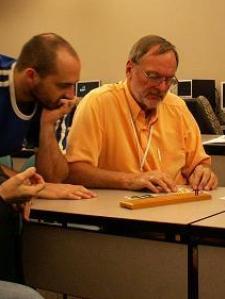 Kenneth S. answered • 12/15/17
I unveil the mysteries and secrets of trigonometry & you'll love it.
Your typing would have been easier had you typed Law of Sines instead of
sin(a)/A = sin(b)/B, sin(b)/B=sin(c)/C."
I believe the conventional name of a 7-sided polygon is heptagon.
Draw a picture, using one of the triangles whose vertices are the center of the circumscribing circle, and the two endpoints of one of the sides. Due to regularity, you can compute the central angle, 360o/7. Draw the perpendicular from the center to the side of the selected triangle. Now you will know all three of its angles, and can use simple trigonometry to calculate the length of the apothem, which will lead you to triangle's area...