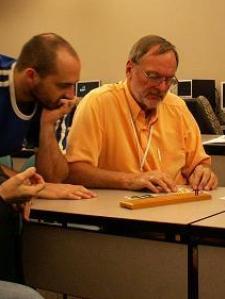 Kenneth S. answered • 12/04/17
I unveil the mysteries and secrets of trigonometry & you'll love it.
The difference in the angles isn't equal...no problem...the graphs of y - sin x and y - cos x are not linear.
You should realize that sine function and cosine function are generalized, in Trigonometry, based on the unit circle.
On a unit circle, with terminal side of an angle in standard position ending in any quadrant,
1. the sine value is the vertical side of the Reference Angle, and in quadrants III & IV the sine values are negative
2. the cosine value is the horizontal side of the Reference angle, and in quadrants II & III the cosine values are negative
3. since this is based on a unit circle (r-1), al ALL times sin2x + cos2x = 1
4. sine and cosine are periodic (cyclical) values--for a second revolution, where angle x goes from 2pi radians on through 4pi radians, the same sine & cosine values appear as before. These continuing revolutions are what generates the sine wave and cosine wave graphs.