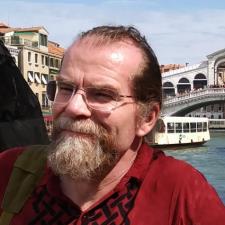 During the Middle Ages and into the Renaissance, African slaves were imported into the states of Italy and the kingdoms in the Iberian peninsula. The practice in Portugal and the Spanish kingdoms of Iberia may have been influenced by the extensive use of African slaves by the neighboring Muslim kingdoms on the Iberian peninsula. As far as I know, the numbers were never significant.
It's not clear that the use of African slaves in place of the peasants of Europe would have been a more profitable labor source. In any case, Europe had a more than adequate pre-existing source of labor. There was no shortage of landless, unemployed people whose presence kept wages at a minimum.
Significantly, the reason large numbers of Africans were brought to the New World to work as slaves were circumstances that were the opposite of those in Europe, a lack of pre-existing labor outside of Mexico and Peru. The peoples of the Americas had almost no immunity to the diseases inadvertently introduced by the earliest European explorers and conquerors. Only where dense, urban populations had existed, specifically the Aztec and Inca Empires, did enough people remain for the population to recover, thus providing the Spanish Conquistadores with an adequate labor source. Elsewhere, such as in Brazil and the islands of the Caribbean, the population declined to such low numbers that the only means of producing a labor force was the importation of African slaves.
European settlers proved to be a less practical option in the tropical locations in the Americas. Just as Native Americans were decimated by the illnesses brought by Europeans, Europeans succumbed to the tropical maladies such as Malaria and Yellow Fever.