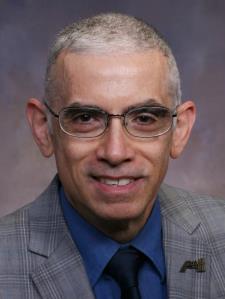 Arturo O. answered • 08/31/17
Experienced Physics Teacher for Physics Tutoring
Find the field as if there was no bubble. Then find the field of a sphere equal to the volume of the bubble, with the same charge density as the slab. Then subtract the second field from the first, and that will be the net field.
1st field:
For the Gaussian surface, choose a cylindrical "pillbox" with axis along the z-axis, extending above and below the slab, with cross sectional area A at both ends. (The area A will drop out of the problem.) By the symmetry of the problem without the bubble, Ex = Ey = 0, and Ez ≠ 0 along the z-axis. Ez will be uniform on the circular faces, and zero along the vertical part of the cylinder.
Φ = Q/ε
V = total volume of the intersection of the cylinder with the slab.
2E1A = ρV/ε
t = thickness of slab
V = At
2E1A = ρAt/ε
E1 = ρt/(2ε)
2nd field:
r = radius of bubble
On the surface of a sphere of radius z centered at the origin, with z > r,
Φ = q/ε = ρ(4/3)πr3/ε
E2(z)4πz2 = ρ(4/3)πr3/ε
E2(z) = ρr3/(3z2ε), for z > r
Net field:
E = E1 - E2 = ρt/(2ε) - ρr3/(3z2ε) = E(z) for z > r
E(z) = (ρ/ε)[t/2 - r3/(3z2)], for z > r.
If z < r, Gauss' law will make E(z) = 0.
Plug in the following, and you can finish the solution, being careful with signs and units.
ρ = -108 x 10-12 C/m3
ε = 9×10-12 C2/(Nm2)
t = 40 x 10-3 m
r = 10 x 10-3 m