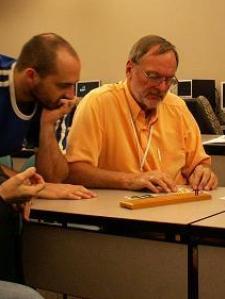 Kenneth S. answered • 07/26/16
Expert Help in Algebra/Trig/(Pre)calculus to Guarantee Success in 2018
You've submitted several similar problems; I'll do one & hope that what I provide can be helpful to you in solving others. Interest on the 160K is 0.055(160,000) = $8,800 = I1.
I guess she has OTHER MONEY (amt. x) available to invest at 6.7% (assuming 1 yr); this interest I2 is 0.067x.
Her combined money is supposed to earn I1 + I2:
(160,000 + x) (0.062) = 8800 + 0.067(x).
You can solve this for x, the amount of additional money to invest at 6.7% in order to increase her combined yield to 6.2%.
This method is based upon my reading of the problem, which does not say take some of the 160K out and invest it in another account.