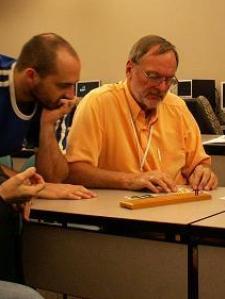 Kenneth S. answered • 05/03/16
Expert Help in Algebra/Trig/(Pre)calculus to Guarantee Success in 2018
After a slight manipulation, you'll have |-2x+3| > 5. This should be translated into two statements:
-2x+3 > 5 OR -(-2x+3) > 5 the first one corresponds to the interior of the absolute value already being non-negative, and the second one corresponds to the interior being a negative quantity, so its sign is changed (distributed) to attain absolute value.
I: -2x > 2 x < -1 Note reversal of inequality symbol when dividing by coefficient -2
II: 2x - 3 > 5 (after distribution of the - sign); then 2x > 8 so x > 4.
The solution is a
disjunction
: all points left of -1 or all points to the right of 4 on the numberline.
Interval notation: (-infinity,-1) ∪ (4,infinity)