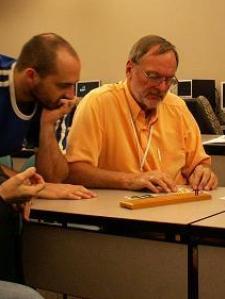 Kenneth S. answered • 03/11/16
Expert Help in Algebra/Trig/(Pre)calculus to Guarantee Success in 2018
Hold on! You're in school & you're taking math. So is EVERYONE. Do NOT carry a negative attitude because if you do you'll talk yourself out of learning. You enter a class without knowing the subject; during the semester, pay attention, ask questions where necessary, do the homework, and strive to UNDERSTAND. In this way you will finish the semester successfully, and not have worry and fear about math--because you have to take math every year.
Now, let's see what (3x5+8x3)-(7x2-6x3) means.
3 times 5 is 15 and 8 times 3 is 24, so inside the first pair of parentheses you have (15 - 24) which equals -9.
Inside the second pair of parentheses you have (14 - 18) which equals -4.
So it comes down to (-9) - (-4) which equal -9 + 4 which comes out to -5.
Note that subtracting a negative four becomes addition of 4.