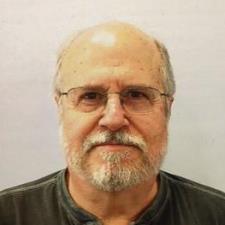 a. Draw the two radii, OC and OD. Now you have two triangles, CMO and DMO. OC = OD, since all radii are equal. CD ⊥ OM, which means that <CMO and <CMO are both right angles, so CMO = <DMO since all right angles are equal. So ΔCMO and ΔDMO are congruent by the SSA hypotenuse right angle rule (SSA where the angles opposite one pair of congruent sides are right angles).
So CM = DM (corresponding parts of congruent triangles). And since CD = 44, that means that CM and DM are both 22.
Now we can find the radius OC. Because ΔCMO is a right triangle,
CM2 + OM2 = OC2
222 + 202 = r2
484 + 400 = r2
884 = r2
√884 = r
2√221 = r
b. Draw OF. Since EF is perpendicular to ON, ΔNOF is a right triangle. So ON2 + FN2 = OF2
We know that ON is 19. We also know that OF is 2√221, since OF is a radius and we previously figured out the length of the radius. So...
ON2 + FN2 = OF2
192 + FN2 = (2√221)2
361 + FN2 = 884
FN2 = √523
c. EN = FN, for exactly the same reason that we showed before that CM = DM. So EF = 2 * FN = 2√523. Round to the nearest 10th, that's 45.7
Please check all the calculations!