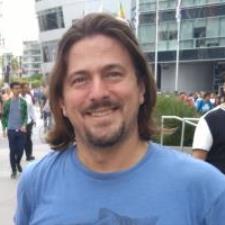 Hey Asher, great question!
Try this, then you can read the answer:
Next time you're at a 3D movie, if you borrow your friend's glasses, and put yours and your friend's over each other, you can see through fine. But if you put the left eye of one in front of the right eye of the other, you can't see anything. You can get the same effect by putting left in front of left, and then rotating one pair 90 degrees.
Now let me back up and explain what's going on.
The way 3D projection works now (they're working on changing the technology involved) is to project two overlapping images from slightly different angles, to recreate binocular vision. In other words, when you look at something in real life, each eye sees a slightly different image, because they're in slightly different places. That's binocular vision (bi- meaning two, and -ocular meaning eye). You can see this by putting your finger in front of your face and closing one eye at a time--it looks like your finger is jumping left and right, but it's because you're seeing first the left eye's angle, then the right's. Your brain processes the two images into one 3-dimensional picture.
So at a 3D movie, they project two images at the same time--that's why the screen looks fuzzy if you take the glasses off--and the glasses filter out one image on the left eye, and the other image on the right, so each eye only sees one. In the 50s, when 3D movies first became a fad, one image was red and one was blue, which is why if you look at old 3D glasses, there's blue plastic on one eye, and red plastic on the other.
Today it's usually done through polarized light. To oversimplify, one lens blocks out the light that's polarized up and down, and the other lens blocks out the light that's polarized left and right. So that's why the experiment I mentioned at the top works--you match up the up-and-down lenses, and each one is blocking the same thing; but put up-and-down over left-and-right and they're blocking everything.