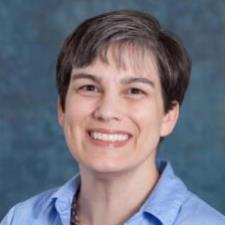 Lisa B. answered • 05/29/19
Award-winning Chemistry Instructor with 20+ Years Tutoring Experience
To select the proper indicator, you need to know the pH at the equivalence point. Formic acid will be neutralized to produce formate anion in solution with a concentration of 0.050 M (25 mL of 0.10 M formic acid will require 25 mL of 0.10 M sodium hydroxide to reach the equivalence point, resulting in a conjugate base with half the concentration of the original acid since the volume has been doubled). The formate anion will hydrolyze (split water) to re-establish equilibrium according to the reaction:
CHO2– + H2O ⇔ HCHO2 + OH– Kb = Kw/Ka = (1.0 × 10–14)/(1.8 × 10–4) = 5.5 × 10–11
I'm going to guess you know how to solve the ICE table to get the pH at the equivalence point (please comment and let me know if you need help with this, too). The pH will be 8.22; the key is to find an indicator with a pKa within +/- 1 pH unit of 8.22.
Using the list of indicators at https://cnx.org/contents/havxkyvS@12.1:5ixDVT1C@12/Acid-Base-Titrations, we see thymol blue makes the best choice since pH = 8.2 falls right in the middle of the region where the color will change.
If you have follow-up questions, please consider booking a lesson with me so I can answer them.