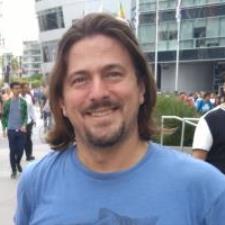 Max M. answered • 04/13/19
Improve your skills and scores with a Harvard grad.
You may get better / more expert answers than this, but I have studied some Japanese sword technique, and the first thing that occurs to me is that it would be very difficult to tell what is cross-pollination and what is simply effective sword technique. Even expanding beyond sword, there are a lot of moves, holds, etc. that are common to both Western and Eastern combat simply because human bodies are human bodies, and stuff that's effective is effective.
As you probably know, there's a pretty narrow window between the so-called "Age of Exploration" and the (semi-) closure of Japan under the Tokugawa shogunate. It would certainly be interesting if there is an account of a, say, Italian knight who somehow trained in Japan for a decade and came back and reported on it, and used his technique in the battlefield (or the other way around), and please let me know if you find something like that. But if you're looking for something like, "hey this dude in the Bayeaux tapestry is in gai-jodan," that may just be because holding a sword over your head before making a downward cut makes sense anywhere.