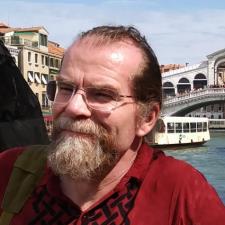 You're correct that knowledge about how to make and use gunpowder appears to have traveled by way of the Silk Road (I believe that's the current consensus among scholars). It's also likely that the transmission of this new technology was helped along by the Mongol conquests,
The problem with seeking to understand how knowledge about gunpowder made its way from China to Europe is that, so far as I know, there aren't any accounts of the actual transfer of information. Instead - again, so far as I know - the history of the transmission of the knowledge about gunpowder has been inferred by tracking the first references to gunpowder in different locations in the Middle East and Europe. I believe, if memory serves me, that the first reference to to gunpowder in, for example, the island of Britain is from events in the 1330s (incidentally, it was once suggested that the admittedly remarkable English scholar, Roger Bacon (c.1214-c.1292), had independently discovered gunpowder).
I can recommend a few titles that you may find useful:
Bradbury, Jim. The Medieval Siege. Woodbridge, Suffolk: The Boydell Press, 1992.
Chase, Kenneth. Firearms: A Global History. Cambridge: Cambridge University Press, 2003.
Crosby, Alfred W. Throwing Fire: Projectile Technology through History. Cambridge: Cambridge University Press, 2002.
Norris, John. Early Gunpowder Artillery c.1300-1600. Ramsbury, Wiltshire: The Crowood Press, 2003.