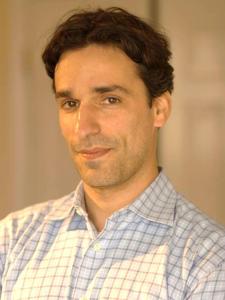 To simplify significantly, suppose we have 20 years worth of weather observations (temperature, humidity, wind speed and direction, pressure, etc.) and suppose that on 120 of those days the weather conditions match almost exactly the current observations. One can look 24 hours ahead, to the next day in these historical data and find that on 60 out of the 120 days it rained the next day. This is what is meant by '50% chance of rain tomorrow.' Put it another way, if in the past the weatherman had predicted rain under those exact (or almost exact) current weather conditions, he would be right about 50% of the time.
(I said, to simplify, because in reality one would use some sort of regression analysis to build a model, in which the current weather conditions would be the input, the values of the explanatory variables.)
Now, if you are planning a picnic, it is either going to rain, or it is not. 50% chance is not very meaningful in a situation when you are running your experiment only once. All depends on your risk tolerance. Either plan your picnic for a day with a <10% chance of precipitation, or tell half of your guests to bring umbrellas, and the other half, sunscreen.