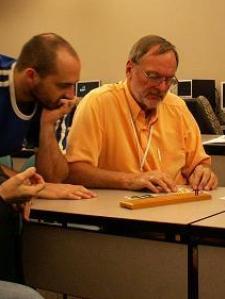 Kenneth S. answered • 05/30/17
Expert Help in Algebra/Trig/(Pre)calculus to Guarantee Success in 2018
if x=0, the first four terms are each equal to 1, so the y = 6.
if x=1, y = 6+3+1/6+1/3+2
if x=-1, y = 1/6+1/3+6+3+2 (same as above).
This 'study' shows me that the range is probably (6,infinity).
Further exploration: f(0.1) = 2.03219 (two terms with base 6) + 2.01208 (two terms with base 3) + 2 which is just a bit above y=6.
If you have a graphing calculator, I suggest graphing it and using the CALC ability to find the minimum.