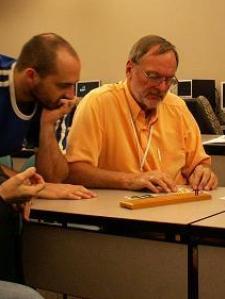 Kenneth S. answered • 05/02/17
Expert Help in Algebra/Trig/(Pre)calculus to Guarantee Success in 2018
Center is (-1,3) as revealed in the (x-h)2 and (y-k)2 expressions.For this type of hyperbola, the transverse axis runs horizontally (through the center) since the y-related terms are subtracted from the x-related terms in this format.
a=3(square root of x-related denominator) and b = 4, and b2 = c2 - a2. This means that c = 5.
Foci are 5 units to the left and to the right of the center, therefore their coordinates are (-6,3) and (4,3).
In point-slope form, the equations of the asymptotes are y-3 = ±(4/3)(x+1).
I leave something for you to do: figure the coordinates of the two vertices. Hint: easy if you make a sketch showing transversal running through the designated Center.