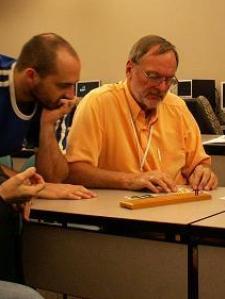 Kenneth S. answered • 12/07/16
Expert Help in Algebra/Trig/(Pre)calculus to Guarantee Success in 2018
x+y = 8
x3 + y3 = 20 ...this system represents the given statements.
Use the factoring rule for sum of cubes:
(x+y)(x2+xy+y2) = 20. By substituting for the linear factor, you get
8(x2+xy+y2) = 20 or 2(x2+xy+y2) = 5.
Now substitute for y; y = 8-x and you will have a (maybe not so nice) quadratic equation in x, which you can solve by Quadratic Formula (if factoring isn't obvious).
you get to finish this job.