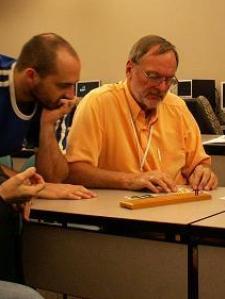 Kenneth S. answered • 09/29/16
Expert Help in Algebra/Trig/(Pre)calculus to Guarantee Success in 2018
HERE'S SOME HELP ON SOME OF YOUR PROBLEMS.

Given csc theta = 2 sqrt3/3 and -270 degrees < theta <180 degrees
The positioning information for θ is too broad, so I'm going to take Quadrant II because < 180o is one of the possibilities. Usually this kind of information should nail down a single quadrant.
Given csc θ implies that sin θ = √3 / 2 and thus cos θ = -1/2.
If you want other quadrants, that can be done, manually.
-----------------------------------
The solution to the trig equation 4cos theta +3 =0 are in which quadrant?
cos θ = -3/4 and using the inverse function gives you the one solution in Quadrant II.
Manually, you can locate another solution in Quadrant III--instead of reference angle being in II, put it into III.