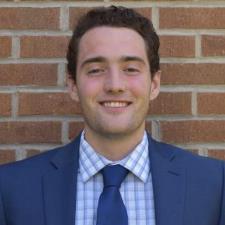 In order to answer this question, you first need to know the molar mass of the Fe2O3. You can calculate this by adding up the atomic masses of each of the atoms in the molecule. So for instance, Fe has an atomic mass of 55.847 amu/mol. Since there are two Fe atoms in each molecule of Fe2O3, we need to add 55.847 amu/mol twice. We then add one atom of C (atomic mass 12.001 amu/mol) and three atoms of O (atomic mass 15.999 amu/mol) which gives us a total molecular mass (since were talking about a molecule now, not atoms) of 159.69 amu/mol. This also means that 159.69g of Fe2O3 is equal to one mole of Fe2O3.
Now that we have the molar mass of Fe2O3, we have to determine how many moles of Fe2O3 we have. We do this by dividing the given mass of Fe2O3 by the molar mass we found in the first part, above. Once we divide 2829g Fe2O3 by 159.69 g/mol Fe2O3, we find that we have 17.716mol of Fe2O3.
Now we need to really look at the chemical reaction. More specifically, we need to look at the coefficients in front of each of the reactants and products. Those coefficients tell us how much of each reactant is needed in order to produce an amount of product. In this problem, there is no coefficient in front of Fe2O3, so we can assume its coefficient is 1. The 2 in front of Fe tells us that every time this reaction is run, 2 moles of Fe will be produced. SO... for every 1 mole of Fe2O3 we put into the reaction, 2 moles of Fe will be produced.
If we put 17.716 mol of Fe2O3, which we found above, all we need to do is double that number to get our final answer: 35.52 mol Fe.