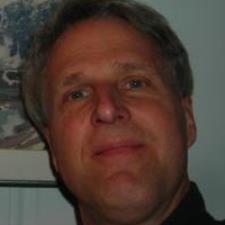 Stanton D. answered • 02/26/21
Tutor to Pique Your Sciences Interest
Hi Dawson H.,
First, write the balanced equation for the NaN3 decomposition. It decomposes to Na (metal, which rapidly reacts with air) and N2 gas.
Next, determine (add up from the Periodic Table, or look up) the molar mass of each material.
3) Convert the mass of NaN3 into moles.
4) Carry that value in moles across to N2 gas product, using the ratio of the coefficients of the materials in the balanced equation.
5) Look up the vapor pressure of water at 26C. Subtract that from the given pressure of final gas, to calculate the partial pressure of just the N2.
6) Using the Univeral Gas Law, find the V for that P, n, and T (R is also used, but that's a constant, not an experimental datum). Now ratio up from the partial pressure of the N2, to the total measured pressure, since the water vapor also takes up space, but only proportional to its partial pressure.
That's it. There are alternate ways of calculating the same result on the gas mixture, but this one has the advantage that you are dealing with just the nitrogen, until the final volume ratioing up.
--C heers, -- Mr. d.