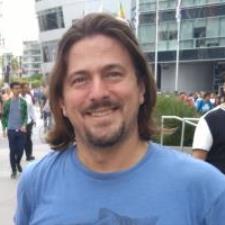 Max M. answered • 06/24/19
Harvard Literature major with 20 years of coaching writers
How about your sentence that starts with "I'm curious though..."?
I'm joking but also serious--that's technically a sentence where you could switch the words and it would still be grammatically correct.
Outside of sentences that are actually about those words, for the most part the answer is no. The reason is pretty simple. "Your" is a possessive adjective; "you're" is a contraction for a subject and verb.
Having said that, and thought about it, I have two ideas that each half satisfy your conditions, and both are gimmicky.
Let's say you and I are both married to people named Terry.
First, here's a clause. I could say to my spouse, "You're Terry, who loves me." And I could say to you, "Your Terry, who loves me..." but that second one isn't a sentence, because it needs a predicate verb, so it would need to be something like "Your Terry, who loves me, won't stop calling." But I can't add "won't stop calling" to the "you're" sentence because the "are" in "you're" is the predicate verb, so "You're Terry, who loves me, won't stop calling" now has too many predicate verbs with no conjunction. But if I add a conjunction to the second one, it loses its predicate verb again!
So that's the problem you're (!) going to run into--if you make one grammatical, you make the other one ungrammatical, because they have mutually exclusive problems.
You could (and here's the closest I have to an actual sentence that satisfies your conditions) say both:
"You know your Terry." (I.e., "you are acquainted with your spouse").
and
"You know you're Terry." (I.e., "you, my spouse, are aware of your identity").
Both of those are grammatical, though they are not interchangeable, since they are inherently spoken to different people (unless you and I are also named Terry, but then they refer to different people).
BUT there's an asterisk on this case, because the second one has an implied "that" in the middle of it. In other words, it's really: "You know THAT you're Terry." It's common to the point of being grammatical to leave out the "that," but it is still implied, and if you put it back in, the sentences become different again. And if you try to put it in the first, you run into the same predicate verb problem in my first example. So that's why I'm calling this only half an example. It satisfies your conditions, but only by leaving out a conjunction.
Fun question, though! What prompted it?