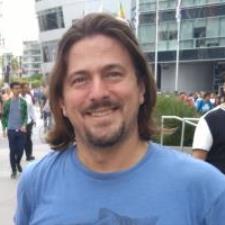 Max M. answered • 06/20/19
Harvard Literature major with 20 years of coaching writers
As others have noted, the question as asked is unanswerable--no one can say with certainty what Shakespeare the man thought about Gaius Julius Caesar. More generally, you can't psychoanalyze an author from their work, at least not with confidence. What you can do is look for evidence in the text for one interpretation over another, although as this question points out, when you do that, you'll find stuff on both sides.
"The playwright's task," wrote Anton Chekhov a couple centuries after Shakespeare, "is to find the correct way of putting the question." Not only is there no single answer to "what did Shakespeare really think of Caesar?" there's also no point to that question.
What tragedy is usually about--what classicist Edith Hamilton described as the essence of tragedy--is suffering. I would add struggle. Suffering and struggle.
Brutus is usually thought of as the protagonist of Shakespeare's tragedy, which is not to say he's the "good guy," and everyone who he doesn't like is the bad guy. But he is the guy whose struggle and suffering we focus on. So what's he struggling with and suffering over? Mainly, he's struggling over exactly your question.
Brutus (this is historical, but it's also referred to in the play) is a direct descendant of one of the founders of the Roman Republic, one of the people who overthrew the monarchy and set up representative government a few hundred years before. Assuming you're American, imagine your great-great-great-great-great-great-(however many)-grandfather was George Washington, and YOUR name is also George Washington, and everyone knows that; wherever you go, you are a walking symbol of American democracy. Now imagine your best friend gets elected President. Now imagine he's so popular, people are talking about making him President for life, and he's not saying yes to that, but you can tell he's thinking about it; he's not absolutely ruling it out either. He may be a good President--maybe even a great President--but if the prospect of absolute power gets to him and he takes the offer of President-for-life / King, it means the end of everything you and your family have stood for for centuries. Now this guy Cassius comes to you and says he wants to talk about honor...
That's Brutus's struggle.
Is he a bad guy or a good guy? Who can say? There are very few devils in Shakepseare's plays (or in most good literature)--even his nastiest characters have something to say for themselves, including Richard III, Iago, and Claudius--and far fewer angels.
Rather than looking for a definitive picture of Caesar or Brutus or Antony or any of the others, do some analysis. What are their virtues? What are their flaws? What makes them flaws? What is the effect of those flaws? What does that tell us about human nature?