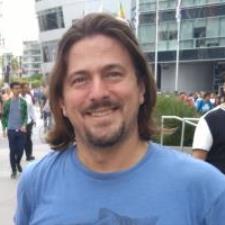 Funny, I was going to mention Marlowe's Edward II, which takes place three kings after Shakespeare's King John, but a) you said "not counting histories," b) Marlowe's play may have been written first (1593 is the first known registration of Edward; John is likely from the mid 90s), and c) Marlowe isn't a Jacobean playwright since he died in 1593 while Elizabeth was still on the throne.
None of the Jacobean plays I've read or seen are direct sequels to Shakespeare. The only instance I definitely know of when a 17th century playwright wrote a sequel to a different playwright's work is John Vanbrugh's The Relapse, which is a direct continuation of Colley Cibber's Love's Last Shift. However, those are both from the 1690s and belong to the Restoration period of English drama (and actually late for that period, since Charles II died in 1685).
In the Jacobean period, I might mention Beaumont's The Knight of the Burning Pestle, which is a sort of parody of two plays by his contemporaries Heywood and Dekker, but not exactly a sequel.
It's an interesting question: may I ask if there's a particular reason you're asking?