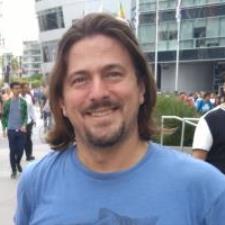 Music in prose--like all kinds of music--is of course in the eye (or ear) of the beholder. So there is no simple, concrete answer to your question. The closest I, or perhaps anyone, can come to a technical answer is that most people would call prose musical when it incorporates some poetic elements (and often more specifically of light verse) without actually being metered poetry. But since these are all human conventions, the line between them is blurry. So when this prof says Berger's prose is rhythmical but not musical, he's not laying down a definition; he's just telling you what he thinks about it.
But surely, a better answer would be to give you some examples and see if they help you feel your way into it. LeGuin isn't a bad example herself, though I haven't read as much of her as I should have. Another one to look at is Edgar Allen Poe. Try any of his stories, but the first lines of "The Tell-Tale Heart" will do to start:
"True! --nervous --very, very dreadfully nervous I had been and am; but why will you say that I am mad? The disease had sharpened my senses --not destroyed --not dulled them. Above all was the sense of hearing acute. I heard all things in the heaven and in the earth. I heard many things in hell. How, then, am I mad? "
Or maybe an even better example is A. A. Milne--creator of Winnie the Pooh. Besides the actual light verse in the books, the narrative itself has, if not a melody, then at least a tone.
But again, just like Landon, I'm not telling you what's what; I'm just giving my opinion.