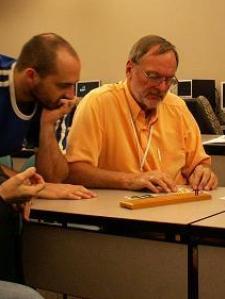 Kenneth S. answered • 01/10/18
Expert Help in Algebra/Trig/(Pre)calculus to Guarantee Success in 2018
In general, each vector is represented in component form by 〈vcosθ,vsinθ〉 where v is the magnitude.
So write each of v1, v2 & v3 in this form.
The resultant is 〈sum of all terms of the form vcosθ, sum of all terms of the form vsinθ〉
Call the resultant r = 〈a,b〉
magnitude ||r|| = √(a2+b2) θr = arctan(b/a)
This gives you the 'analytical' result to as much accuracy as you employ during all of the calculations.
Doing the problem graphically has the inherent problem of accuracy attained by a drawing, which cannot be as good as the former method. Read the graphical results as reasonably as you can, and then calculate thesdeviation of magnitude & direction.