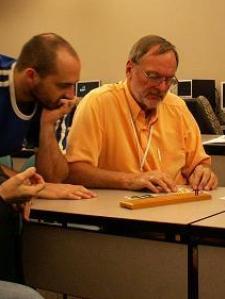 Kenneth S. answered • 01/06/18
Calculus will seem easy if you have the right tutor!
I make a drawing with the ladder in first quadrant, forming a right triangle with the axes.'
x2  + y2 = 152  and when x=9, y = 12.
acute angle θ is formed by side x and hypotenuse 15.
you WANT dθ/dt at the instant when x = 9, at which time y = 12.
sin θ = y/15 at any time during the sliding.
cos θ (dθ/dt) = (1/15)(dy/dt) by differentiation of the above.
dy/dt = -2 (given rate of slippage)
(dθ/dt) = (1/15)(-2) / cos θ.  Now all you need to do is to substitute cos θ at this instant.  Got it?