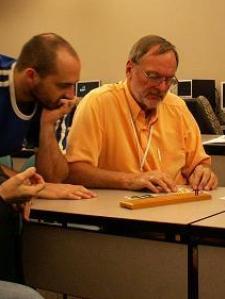 Kenneth S. answered • 12/16/17
Expert Help in Algebra/Trig/(Pre)calculus to Guarantee Success in 2018
It surely helps to draw the figure. You will have two triangles, EAD & ECB.
Angles B & D are congruent...that's one angle in each triangle.
At E, there's a pair of congruent vertical angles...that's a second angle in each triangle.
The aforementioned two triangles are congruent, by "AA" and consequently
the third pair of corresponding angles, namely A and C, are congruent.
Q.E.D.