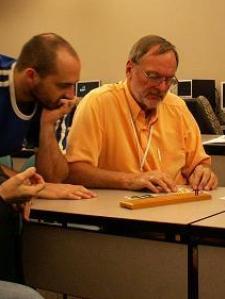 Kenneth S. answered • 11/05/17
Expert Help in Algebra/Trig/(Pre)calculus to Guarantee Success in 2018
From the given data, I conclude that it takes one person 53 minutes to paint one wall.
Multiplying this by 20, I conclude that it takes 20 persons 53 minutes to paint 20 walls.
Assuming, of course, that the walls are all the same and that all these persons work at the same unit rate, and that all of the painting is done concurrently, i.e. all persons start on a different wall at the same time.
On the other hand, if each wall were begun only after a person painted one wall and then handed off the next wall to a successor, then this whole job would only be finished after expiration of 20(53 minutes), a total of 1060 minutes.