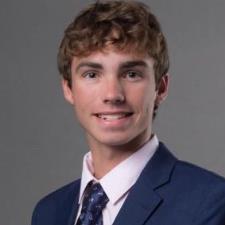 Jason M. answered • 12/16/20
Founder & CEO of firm that generated over $15,000 in first 3 months
Here's what we are going to do:
a)
Because we have 2,000 to deposit, we can use variables to define the amount that will go into each account.
If we put $x into account 1, then the rest (2,000 - x), will go into account 2.
Account 1 = x
Account 2 = 2,000 - x
b)
Because we are looking to earn interest of $140, we will set our equation equal to that. The amount of interest generated by each account, because the investment is one year, and our rate is annual, will simply be the rate of the account times the amount of money in the account.
Account 1 = 4%
Account 2 = 10%
Therefore our equation is:
0.04*(x) + 0.10*(2,000-x) = 140
c)
0.04x + 200 - 0.10x = 140
-0.06x = -60
x = 1,000
Account 1 = 1,000
Account 2 = 2,000 - 1,000 = 1,000