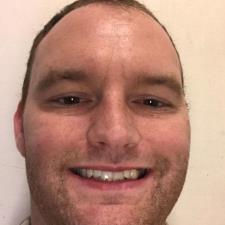 Jesse E. answered • 07/28/19
Masters in Chemistry specializing in preparing for ACT Science.
By definition, molality is the number of moles of soluter per kg of solvent. (It is very easy for students to read this problem and think molarity is needed. So be careful when reading problems.)
For this problem, we need to convert maleic acid to moles by calculating its formula weight.
4 x C = 4 x (12 g/mol) = 48 grams/mole l
4 x O = 4 x (16 g/mol) = 64 grams/mole
4 x H = 4 x (1.0 g/mol) = 4 grams/mole
Adding these up we get the formula weight of maleic acid which 116 grams/mole.
Now we calculate moles:
30 (1 mol/116 grams) = 0.26 moles
For the molality, we divide the number of moles by the amount of solvent, which is 600 g, which is also 0.6 kg.
0.26 moles/0.6 kg = 0.43 moles/kg.
This solution's molality is 0.43 moles/kg