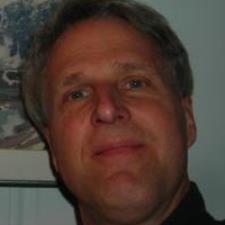 Stanton D. answered • 01/08/15
Tutor to Pique Your Sciences Interest
Kitty,
most likely you've already cleared this up in your classwork, but if not, here are some general thoughts.
1) Moles and grams are both units of measure, but they are measured in different ways and used for different purposes.
Grams is a unit of mass (weight, you might think of it as -- but one gram of carbon will be one gram of carbon anywhere in the universe, though if you placed it on a the same scale the dial would point to "1 gram" here on Earth, to about "1/6 gram" on the Moon, and so on). Anything having 1 gram of mass would make a scale read "1 gram" here on Earth, regardless of whether the thing is carbon, iron, gold, sulfur, and so on. (There's a little correction to make based on the bouyancy of the substance in air, but that doesn't affect things much in the high-school lab).
However, therefore, if you have something with heavy (massive) individual atoms, there will be fewer of them in your 1 gram sample than there will be in a sample of something with lighter (less massive) individual atoms.
That creates a certain problem in preparing for chemical reactions, because chemicals react on a (one atom A + one atom B) basis (or some other proportion based on atoms, molecules, or whatever else you are reacting). So if you just took some amount (by mass) of a first chemical and were trying to figure out how much of any second chemical would react with it, you'd need to look it up in a two-dimensional table of all possible chemicals, which would exceed the size of the universe. That's not good!
OK, so that's why there is the unit of measurement, the mole. A mole of any chemical contains the same NUMBER of particles (atoms, molecules, etc., whichever applies to that chemical) as one mole of any other chemical. Number of particles to react is a guaranteed thing (it's Avogadro's Number, 6.023 x 1023).
As you've discovered, that means that a mole of any particular chemical has a different mass than a mole of any other chemical. BUT, that mass is easily calculated from the formula of the chemical -- just add up the (atomic) masses of all the atoms in the chemical formula (in Daltons), and write that sum, with units of grams.
So in your particular problems above, you need to be able to "hop" back and forth between grams and moles for a material. For elements (silver, for example). to go from grams to moles, divide the number of grams by the atomic mass of silver (107.8682 g/mole). Note that when you have done this correctly, your UNITS will cancel out to give the units of your desired answer (moles). Similarly, to go from moles to grams, multiply the number of moles by the molar mass (grams/mole) of the substance, resulting in just grams as units.
Frequently in chemistry problems, you need to convert over the following sequence:
1) Divide by the molar mass of the given material (grams --> moles given material)
2) multiply by the coefficient ratio (target/given) in the balanced equation to find the # moles of the target material
3) convert the moles of target material to grams target molecule, by multiplying by the molar mass of the target material.
-- Hope this helps you a bit,
-- S. de Riel