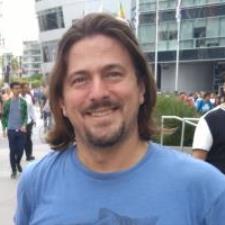 Someone else may have a specific number that they have reason to be confident in, but it looks to me like you already have enough sources to make you well informed on the subject, and to give you the idea that anyone projecting confidence in a concrete answer is not likely to be "right" in any meaningful sense of the word.
The OED won't come down concretely in the way you say, because they know every entry is a work in progress--they list first recorded usage, but take it as a given that many words are often in use before they're written down, and written down in casual ways before they're in major publications or correspondence among famous people. And more documents are being discovered all the time. Even the information that typesetters were confused is at best suggestive rather than proof of anything.
Think, by way of analogy, of some of the new words of today, when everything is recorded and easily searchable. Let's look at, for example, "lulz" (as in "laughs," plural of "lol"). It's likely it would cause a little confusion at the New York Times if a journalist tried to use it in an article today. But who was the first to use it? And even if we think we know the answer to that question, does that mean that that person coined it? They certainly didn't coin it out of thin air; "LOL" had to have been in wide currency first, and then it had to become pronounced as a word rather than letters, and so on. And "lulz" still isn't widely accepted as a word. In fact, it probably won't be until / unless some "reputable" source uses it without explicitly referring to it as a piece of online culture. If and when that happens, will that author be credited with the coinage, as opposed to whatever gamer actually first typed it?
Now try answering those questions for 400 years ago, when we only have a tiny fraction of written text and can't always be sure of exact chronology, and you can see why there's so much uncertainty, even for making ballpark estimates.
So back to Shakespeare, recognizing that coinage isn't a simple black and white question. I.e., it's not as simple as saying that Shakespeare did or didn't coin a word. Does it count if he was the first to use an existing word as a different part of speech, say, use a verb as a noun, as he is thought to have done with "discontent?" What if he was the first to put an ending on an existing word to change its part of speech, as he is thought to have done with the existing "consanguinity" to make "consanguineous?" What if it's a compound of existing words, like "bloodstained," sometimes credited to him? What if it's a slight modification of a foreign word, like "alligator" (Shakespeare is thought to have added the final "r" from Spanish)? Or a new spelling of a foreign word, like "zany," adapted from the Italian commedia dell'arte character Zanni? Do we give him full "credit" for words that didn't stick, like "fadge?" Assuming his is still the first recorded usage of all six of these examples, how many of them would you count as coinages? Would it change anything if we then found an earlier source that had, say, "blood-stained," with a hyphen? Does everyone in your class agree with all your answers?
What I'm trying to get at is that the target is both very fuzzy AND constantly moving. What is certain is that Shakespeare played with language a LOT. Beyond that, I think the questions are much more interesting than the answers...what do you think?