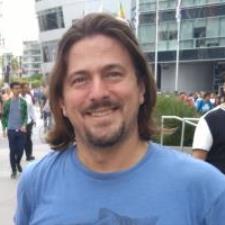 I must say, that's an interesting and unexpected question.
The simplest answer I can give is that there is no absolute answer.
There is nothing that explicitly says she's dead--you're not missing some archaic synonym for "definitely physiologically pronounced dead by a qualified coroner." And it is true that people sometimes pine and suffer from breakups in similar ways to how they mourn.
But...
It never (until now) occurred to me to question that she was dead. Here's a few reasons:
Poe wrote a LOT about death and not that much about breakups. I could steer you to almost any story, but the poem "Annabelle Lee" should be enough; the narrator mourns a definitely dead lover who died young.
That actually happened to Poe in real life. His wife (who was also his 13-year-old cousin!) died of tuberculosis. However, that didn't happen until 2 years after "The Raven" was published, so this may be an irrelevant point. But I'm not sure when she first got sick, so on the other hand, it's possible he was anticipating her death in the poem.
The literary answer you're looking for. First, the big one: he asks the raven, "if within a distant Aidenn" he will see Lenore again. Most sources I've seen take Aidenn as a variant on Eden, meaning he only expects to see her in heaven, which strongly points to her being dead. He's not asking if she'll ever come back, he's asking if he'll see her when he dies. Also, the poem is full of death imagery. There are "ghostly" shadows, "angels," "seraphim" (a kind of angel), and so on. The poem takes place at midnight in December, two common metaphors for the end of life, and much more. Lastly, when he wonders whether the Raven will leave (in the 10th stanza), he says "doubtless he will leave me, as my Hopes have flown before." Poe italicized "he," and so he could be comparing the Raven's departure to Lenore's, but notice that he doesn't say "he will leave me like she did;" but rather that his hopes (plural) did. And they flew, which implies they left quickly and suddenly, so it doesn't sound like he's describing a relationship that gradually went bad until she packed up and left (which also, I should point out, was not as common an option in the 1840s as it is now). It sounds like he's not describing a person walking out the door, but a future disappearing.
By the way, if you're not a native speaker, I want to congratulate you. Reading poetry in a non-native language is always a challenge, and The Raven is pretty long, and uses a lot of obscure and archaic vocabulary. So even if you didn't get every word, well done! Most people don't get every word of this poem--I have never heard of "nepenthe" outside of it, and it was probably the first place I encountered words like "censer," "quaff," "pallid," and others. I hope you enjoyed it!