Finding the max volume of a box
A company wants to manufacture a box for which the rectangular bottom has a perimeter of 64 cm. The height is a fixed 12 cm. Use an equation to algebraically find the maximum volume of the box.
2 Answers

By Expert Tutors
2(a+b)=64, b=32-a
V=12ab=12a(32-a)
V'a=dV/da=12(32-a)-12a=12*32-24a=0, --> a=16.
V''a=-24<0 --> a=16 is maximum.
So, V=3072 cm3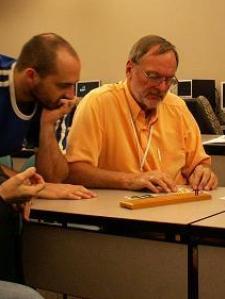 Kenneth S. answered • 04/17/18
Expert Help in Algebra/Trig/(Pre)calculus to Guarantee Success in 2018
since the height is fixed, you only need to consider the base.
it's well known that the maximum area of a rectangle of fixed perimeter occurs when the figure is a square.
SOLUTION: 16 cm by 16 cm =base, height 12 (fixed).
Base Area =64 sq cm, base perimeter = 4(16 = 64 cm.
Still looking for help? Get the right answer, fast.
OR
Find an Online Tutor Now
Choose an expert and meet online. No packages or subscriptions, pay only for the time you need.
---