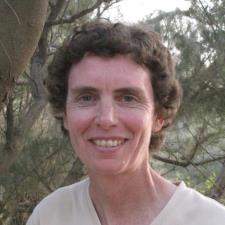 Lois C. answered • 04/03/20
Knowledgeable, experienced tutor specializing in secondary mathematics
You have 3 unknown quantities here but only enough information for two equations, so we will solve this either by substitution or elimination and we will set up our two variables to be able to represent all 3 unknowns.
Let x = # of apples
Let y = # of oranges
Let x - 10 = # of bananas ( since the problem tells us 10 more apples than bananas were sold.
Now we set up our two equations. The first will deal with the total amount of fruit sold. We add together the quantities of all 3 types of fruit and the equation becomes x + y + x-10 = 60. Combining like terms, this equations simplifies to 2x + y = 10.
The second equation will deal with the total money earned, so this equation will be 2x + 5y + 3( x - 10 ) = 180. Eliminating parentheses and combining like terms for this equation results in 5x + 5y = 210.
At this point, we can either use substitution or elimination to solve the system of equations. By substitution, we can isolate the "y" in the first equation, so y = 10-2x, and then we insert this expression for y into the 2nd equation, which then becomes 5x + 5( 10-2x ) = 180. Solving first for x, we get x = 28, the number of apples. Then substituting this value for x into either of our two equations, y comes out to be 14, the number of oranges. Then using the x - 10 expression, we find the number of bananas to be 18. Checking these 3 values for both a quantity of 60 pieces of fruit and a total income of $180 confirms we have the correct amount of each type of fruit.