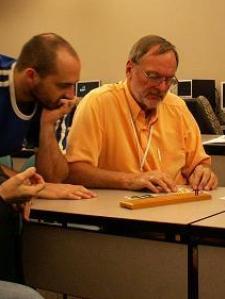 Kenneth S. answered • 03/01/16
Expert Help in Algebra/Trig/(Pre)calculus to Guarantee Success in 2018
To do this problem, are you using inscribed equilateral triangles and circumscribing equilateral triangles?
If so, I suggest that you make a decent drawing, separately, for each triangle. You can then break the problem down into a series of 30-60-90o triangles, one of which will have a radius of the circle as its hypotenuse (this occurs for inscribed circle) or the short leg (this occurs for the circumscribed circle). From these, using the classic hypotenuse:short leg:longer leg ratio of 2:1:√3, you'll gradually find the sides of the inscribed & circumscribing triangles, etc.
Recall that the area of any 30-60-90 triangle is ¼s2.
Do this & you'll have the two areas that you seek.
As in most geometry problems, the key is a geometric diagram, made large enough for that labeled measurements can be marked (and checked).