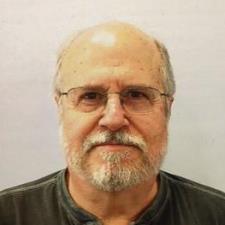 1. No you can't. Physical appearance tells us very little about what's in a substances.
2. It can react when in contact with heat, but only if there is another substance present. For example, some elements will combust (burn, ignite) when they are heated in contact with air, since air contains oxygen. But if there is no other substance present, such as in a vacuum, the substance will not react. It might change form, e.g. melt, but that is not a reaction.
So to answer the other questions in part 2. It can ignite if another substance is present, such as oxygen. But by itself, it would not ignite.
If it reacts in the presence of air, it doesn't mean it's a compound. If it reacts with no other substance present, then it is a compound.
3. Well, you can't tell by looking. But what you could do is weigh the substance before heating it, and then weigh the products of the reaction afterwards. If the total weight afterwards is greater than the weight before heating, then the extra weight had to come from somewhere other than the original substance, such as air. If the total weight is the same afterwards, then the substance simply decomposed. HOWEVER, you'd have to be extremely careful to weigh EVERYTHING, including gases that may be released from the reaction. If you lose any of the reaction products, then all bets are off.