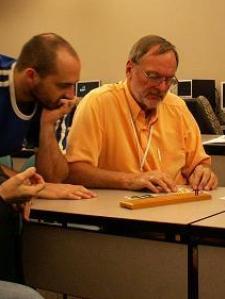 Kenneth S. answered • 05/27/18
Expert Help in Algebra/Trig/(Pre)calculus to Guarantee Success in 2018
Consider six letters(3 e's, 3 o's), to be placed uniquely into 6 slots.
Let's distribute, differently, just the e's; the first e can be put in 6 choices; the next e can be put into 5 places; and the remaining e can go into 4 places. HOWEVER, these are not unique e's, so the product 6(5)(4) must be divided by 3! and so there are exactly twenty ways to do this job. THIS IS 6P3 divided by 3!
There are now three unfilled slots. Simply put an o into each one.There's exactly one way to do that(since the o's all look alike).
Therefore 20 is the # of ways of getting distinct e/o arrangements.
Applying this policy to the case of four letters (two e's, two o's), we get, for the # of ways to distribute the e's, 4P2÷2! and again the subsequent distribution of o's can only be done one way. This result, 6, agrees with your case study count.
So I believe that, for n=any even number (# of slots), the distribution of e's and o's (equal in number) into slots can be done in nP(n/2) ÷ (n/2)! unique ways.