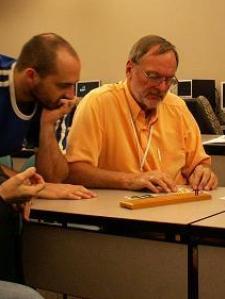 Kenneth S. answered • 02/26/18
Expert Help in Algebra/Trig/(Pre)calculus to Guarantee Success in 2018
if n=1, 2 = 22-2. verified for initial case.
Now assume that 21 + 22 +  ... +2k = 2k+1 - 2 IS true for some particular value, k.
Assuming the above, we add 2k+1 to each side, and get
21 + 22 +  ... +2n + 2k+1= 2k+1 - 2 + 2k+1
                                      = 2k+2 -2
and now we see that THIS equation represents the case where n=k+1.
Therefore the truth of case n=k+1 is simply based on the truth of its predecessor case, n=k.
Since the case when k=1 is true, it follows (as an algebraic identity) that the case k+1 follows, so it's true when k=2.  Repeated reasoning tells us that case n=2 (true) dictates, therefore, the truth of case n=3, et cetera, et cetera.
Proved by the principle of Mathematical Induction.